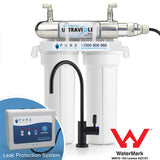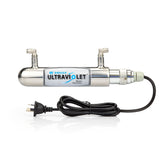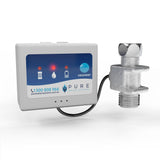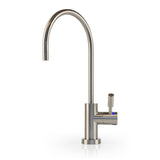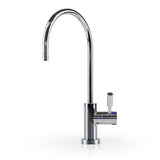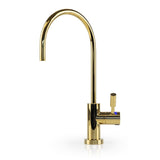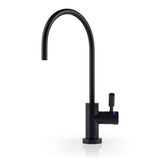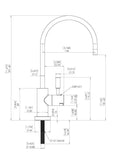 Product Description

The Under Sink Ultraviolet System is an efficient, low cost and environmentally friendly system, offering high quality, filtered water for your home or business. Combined with the Pure Water Systems Leak Protection System, this technologically advanced process provides high-quality water filtration, sterilisation and a superior defence against water damage in the event of a leak.


There are no known micro-organisms that are immune to Ultraviolet light, providing 99.99% bacteria and parasite elimination. The Under Sink Ultraviolet System utilises a combination of ultraviolet sterilisation and submicron carbon filtration causing a chemical reduction. The end result is great tasting, filtered water, provided by one of the best technologies in water filtration today.


This system is highly recommended for tank water supplies and is designed to be installed neatly underneath your sink, inline to a chilled application or solely for filtered water. An option is also available for town water sources. (Please contact our Product Solutions Team on 1300 808 966 to order a system suitable for town water.) 

This Ultraviolet System includes your first pre-filter and submicron cartridge, high-quality housing, parts and fittings. 

The

Pure Water Systems filtration system incorporates a precision machined, full metal construction pressure limiting valve and dual check valve,

providing

protection from pressure spikes, preventing backflow

,

and resist

ing

water hammer. Whilst this is a requirement under Australian Standards, we have chosen this valve as it is ultra

-

reliable and performs to the highest standard

,

giving you p

eace

of mind that your system is protected.

 


COMPLIMENTED WITH A MODERN AND STYLISH LED FAUCET 

A wide range of stylish

 LED Faucets 

are available to suit your unique style for an aesthetic addition to your kitchen. Its clever design features a LED light that illuminates blue when fresh, filtered water flows through. The LED indicator will then change to red to indicate when it is time to replace your filter cartridge, so there is no more guessing or forgetting.


Simply replace the faucet battery at the same time as your filter cartridge to reset the LED indicator for another 12 months*.
To make life even easier, Pure Water Systems will supply a replacement faucet battery when you purchase a replacement filter cartridge.
Specifications
Ultraviolet Specifications
| | |
| --- | --- |
| Dimensions (L x D) | 278mm x 58mm* |
| Flow Rate | 3.8 Litres / Minute** |
| Min / Max Temperature | 0°C - 40°C |
| Max Pressure | 100psi (690kPa) |
| Watermark Certification | 103:2016 Certificate No.: 23384 |
| Lamp Capacity | 12 Months |
| Chamber Material | Stainless Steel |
*Diameter: 84mm with Inlet / outlet (168mm between inlet and outlet ports)
**Flow rate and UV Dosage is based on > 30mJ/cm2 @ 85% UVT
| | |
| --- | --- |
| Flow Rate | 38 Litres / Minute |
| Min / Max Temperature | 4.4 – 51.7°C |
| Cartridge Dimensions | 248mm x 67mm |
| Micron Rating | 5 Micron |
| Material | Food Grade Polypropylene, Non-woven Polyester (reusable) |
| | |
| --- | --- |
| Flow Rate | 1.9 Litres / Minute |
| Min/Max Pressure | Min - 30 PSI - Max - 125 PSI (we recommend a minimum of 60 PSI) |
| Min/Max Temperature | 5°C - 30°C |
| Product Dimensions (L x D) | 248mm x 67mm |
| Micron Rating | Submicron |
| Material | Ceramic outer shell, Carbon block, Ion exchange resin |
*Doulton Ultracarb Cartridge is not recommended for gravity tank systems. Please contact our Product Specialists on 1300 808 966 for alternative options.
| | |
| --- | --- |
| Operating Voltage | 9V DC |
| Supply Current Typical | 1.0 mA, Maximum 15.0 mA |
| Cable Length | 1.5m for Solenoid Valve Cord |
| Connecting | 1/2" BSP Male |
| Working Temperature | 0—60°C |
| Maximum Pressure | 112 PSI |
| Body Material | Chrome Plated Brass |
| Solenoid Valve | Chrome Plated Brass |
| | |
| --- | --- |
| Recommended Water Source | Mains (treated),Tank (rain), Bore, River water supply |
| Weight | 0.4kg |
| Max Pressure | 125 PSI |
| Materials | Body = DR Brass (CZ132), Spout = Brass (C27000), Orings (spout) = EPDM, Shank (Tube) = Brass (CZ132), Handle = Brass |
| Connection | Connect to 1/4" (6mm) nylon tube via an olive, insert and compression nut (supplied with faucet) |
| NSF certified | NSF 61 |
| Sink Hole | 12mm |
| Max. Bench Thickness | 60mm |
| Faucet Height | 292mm |
| Spout Height | 182mm |
| Warranty | 1 Year Warranty* |
SUPPLIED WITH
Ultraviolet with Lamp
Twin Filter Housing with Mounting Bracket
Washable Tank Water Pre-Filter (R5)
Submicron Tank Water Cartridge (CER1)
Slimline LED Faucet
Housing spanner
Australian approved standard cold water connection kit including:

Isolation Tap
Pressure Limiting / Dual Check Valve
2m high pressure tube
Installation Instructions