Fantastic food starts with filtered water
We go to great lengths to choose the freshest, highest quality ingredients for our favourite recipes, so why not pay the same attention to the water we use to cook, clean and prepare our food. Most food isn't cooked at a temperature high enough to destroy many of the nasties that might be in our water – chemicals, chlorine, dirt and other contaminants.
The best restaurants use filtered water for cooking, so why not give ourselves, our loved ones and our food, the best water available?
Benefits Of Filtered Water Include:
Better tasting (no more unpleasant tastes or odours).
Hydration made pure and simple.
Great potential health benefits - such as improved gut health.
Environmental protection.
At Pure Water Systems, we believe your best recipes deserve the best water.  Why not try this great winter warmer to get you cooking with filtered water this winter?
Healthy Minestrone Soup Recipe
Suggested Serve: 4
Recipe Ingredients:
1 whole garlic
4 slices pancetta
1 baguette or gluten free bread
70ml extra virgin olive oil
1 brown onion, finely chopped
4 cloves garlic, finely chopped
4 thyme sprigs
1 teaspoon sea salt flakes
Cracked black pepper
150g piece flat smoked pancetta chopped
1 small fennel bulb, finely chopped
2 celery sticks, finely chopped
1 fresh bay leaf
1 litre (4 cups) filtered water
80g parmesan rind, chopped
1/2 bunch green kale, washed, stalks removed
200g can cannellini beans
1 small zucchini, finely chopped
1 handful broad beans, skin removed
80g (1/2 cup) frozen peas
1 bunch asparagus, sliced
Half bunch basil
60g grated parmesan to serve
Recipe Method:
Preheat oven to 180°C fan forced.
Bake garlic in foil for 45 minutes or until it is soft. Remove and set aside to cool.
Add pancetta slices to baking tray and bake for 6-8 minutes or until golden and crisp. Set aside to cool.
Cut 1.5cm-thick slices of baguette on an angle. Brush each slice with a little of the olive oil, then place them on the warm baking tray and bake for 6-8 minutes or until golden brown. Set aside and cool.
Place a large saucepan over medium heat and pour in olive oil. Add onion, finely chopped garlic and thyme. Season with salt and pepper. Cook for 2-3 minutes.
Dice pancetta and stir until dissolved.
Add the fennel and celery and cook, stirring, for 2-3 minutes.
Throw in bay leaf.
Pour in filtered water from your Pure Water Systems filter tap.
Bring the soup to the boil.
Add the parmesan rind and simmer for 10 minutes.
Add the kale, cannellini beans, zucchini, broad beans, peas and asparagus. Simmer for 10 minutes.
Add a good drizzle of olive oil and basil. Bay leaf can be removed before serving.
Squeeze the baked garlic from the skin, spread thickly on the toasted baguette and top each with a slice of crisp pancetta.
Serve soup topped with grated parmesan. Enjoy your winter warmer!
Using a water filter is a smart choice when cooking.
Our Bench Top Water Filter with the powerful Hi-Tech Optimiser (HTO) Cartridge is excellent for removing unpleasant water tastes and odours, making staying healthy and hydrated simple.
Enjoy more than just great tasting drinking water, as the Bench Top Water Filter with HTO is perfect for washing fresh produce, water for cooking, drinks like tea and coffee, pet's water dishes and more!
Enjoy Healthier Great Tasting Water
As Seen On This Post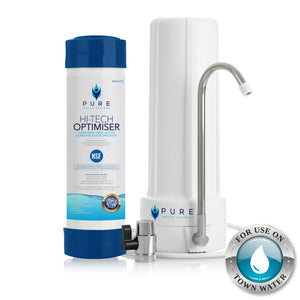 Free Shipping on orders over $99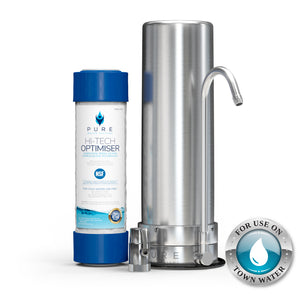 Free Shipping on orders over $99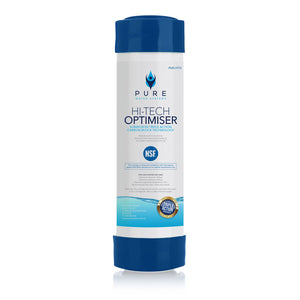 Free Shipping on orders over $99