A reverse osmosis (RO) water purification system is a valuable investment for you and your family to enjoy healthy, great tasting purified water at the turn of a tap in your own home. Not only is a reverse osmosis system one of the most advanced and effective household water purification methods, most reverse osmosis systems do not need any electricity to operate.
How does reverse osmosis water purification work?
Firstly, the reverse osmosis water purification system filters the water through carbon cartridges, removing chlorine and sediment.
Next is the purification stage, where the water is pushed through a fine reverse osmosis membrane, designed to remove almost all contaminants including lead, total dissolved solids (such as fluoride), recycled sewage water and more. Finally, water then flows through another carbon cartridge to polish the water before it flows through your tap. 
What are some of the contaminants a reverse osmosis system can remove?
Copper 98.5%
Fluoride 93.6%
Arsenic 88.0%
Barium 96.3%
Selenium 97.9%
Total Dissolved Solids Reduction 90.8%
Cadmium 99.1%
Lead 98.6%
Chromium Cr 6 96.4%
Turbidity 99.1%
Chlorine 95%
A Pure Water Systems reverse osmosis water purification system can be installed conveniently under your sink or provided in a completely portable option which is best suited to people who rent. Our reverse osmosis systems are fitted with Eco Hero 50 membrane which provides up to 300% improved waste water efficiency in comparison to older style membranes, resulting in reduced waste water production (excludes the RO-5U). Easy to maintain and economical, our reverse osmosis systems generally require cartridge replacement every 6-12 months, depending on the water quality in your area.
Why Australians LOVE our Eco Hero 50 reverse osmosis membrane
Many Australians are passionate about reducing fluoride and chlorine from their drinking water, but it can be hard to do that without wasting a huge quantity of water.
Our Eco Hero 50 reverse osmosis membrane is your solution
Effectively removes 93.6% of fluoride
Can reduce your waste water by up to 300%
Easy servicing
High performance
Save money on water bills
Commonly asked questions:
Why are reverse osmosis systems popular?
Reverse osmosis is the ultimate in water filtration. This intense purifying process provides the high quality, fresh, purified water conveniently at the turn of a tap. 
Where is the reverse osmosis system installed?
A reverse osmosis system is typically installed neatly under your sink, however, Pure Water Systems do provide portable non-plumbed DIY install bench top options - perfect for people who rent. 
Is a reverse osmosis system worth the investment?
Choosing to install a reverse osmosis system for high quality, purified drinking water is a great choice for your body, your wallet and the planet. By purchasing an reverse osmosis system, you are making an economical and conscious decision for the future of your health.
Are reverse osmosis systems noisy?
No, our reverse osmosis systems are not noisy. Systems do have a slight sound, which can be heard when water is being processed.
What are the health risks of drinking reverse osmosis purified water?
While reverse osmosis is excellent for removing contaminants (such as heavy metals like cadmium, arsenic and chromium), healthy minerals and salts can also be removed leaving your water acidic. For great potential health benefits (such as improved gut and kidney health), you can raise your water's pH balance to a level considered alkaline by adding healthy minerals back to your water with a Remineraliser cartridge.
How long will a reverse osmosis system last?
Our reverse osmosis systems are made of the highest quality parts and fittings for minimal future maintenance. The cartridges should be replaced every 12 months, but may need to be replaced earlier depending on your water quality and use. The membrane replacement is periodically depending on water quality and use also. Please speak to a friendly team member to confirm the estimated lifespan of the system you are considering. 
Is reverse osmosis water purification bad for the environment?
Switching to a reverse osmosis system for great tasting, healthy, purified water instead of purchasing plastic water bottles is a environmentally friendly alternative, as single use plastic is hazardous to our environment. Most reverse osmosis systems don't require electricity to run. Some reverse osmosis systems can waste up to two-thirds of your water, however our Eco Hero 50 membrane provides up to 300% improved water efficiency.
What are the health benefits of the reverse osmosis?
General tap water can contain Volatile Organic Compounds (VOCs) such as pesticides and herbicides, heavy metals, endocrine disrupting chemicals such as fluoride, as well as hormones and cysts.
Using a reverse osmosis will reduce all of these contaminants significantly, protecting your body from absorbing them.
If you have any questions about reverse osmosis, water purification or finding the right system for you, please call our friendly team on 1300 808 966
As Seen On This Post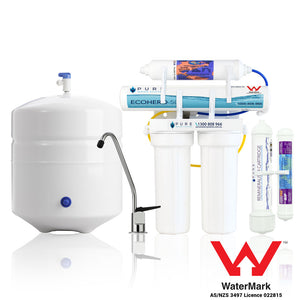 Free Shipping on orders over $99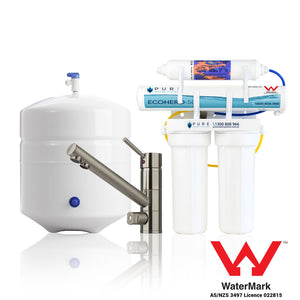 Free Shipping on orders over $99