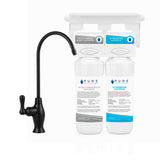 Product Description

Enjoy great tasting water even when you're on the open road with the Pure Water Systems Adventure Series Twin Under Sink Filtration System. The system uses an impressive 8" silver impregnated carbon block filter cartridge and a hollow fibre membrane cartridge to achieve optimum filtration. 

Due to the varying water quality around Australia, the Silver Carbon Block Filter Cartridge is an excellent choice for filtration, keeping your water fresh and healthy by filtering out chlorine levels, volatile organic compounds and trihalomethane whilst reducing the nasty taste and odour of tap water.

The UF Membrane Cartridge is the second level of filtration which uses ultrafiltration to suspend particles like; cysts, minute bacteria and bacillus whilst allowing vital minerals to stay in the water supply, leaving you with fresh filtered water at the turn of a tap.

Conveniently sized so that it can be neatly installed under the sink, this system is quick to install and even easier to maintain. The fast release system ensures that whilst on the road, replacement filter cartridges can be installed in seconds.

Pure Water Systems' Adventure Series caravan systems come ready to install complete with the Silver Carbon Block Filter Cartridge, high-quality housing, parts and fittings. Also choose from a range of faucets and 3-way mixer taps to suit your unique style for an aesthetic addition to your kitchen.
Specifications
Silver Carbon Block Filter Cartridge Specification
| | |
| --- | --- |
| Flow Rate | 1.89L / Minute |
| Min /Max Pressure | 68-861 kPa (10-125psi) |
| Min / Max Temperature | 4-38°C |
| Certification | Carbon is NSF Certified |
| Micron Rating | Nominal 2.5 Micron |
UF membrane Filter Cartridge Specification
| | |
| --- | --- |
| Flow Rate | 1.89L / Minute |
| Min / Max Pressure | 68-413 kPa (10-60psi) |
| Min / Max Temperature | 4-38°C |
| Certification | Howllow Fibre is NSF Certified |
| Micron Rating | Nominal 0.1 Micron |
SYSTEM SPECIFICATIONS
| | |
| --- | --- |
| System Dimensions (H x W x L) | 300mm x 80mm x 160mm |
Please allow a further 40mm height for removal and replacement of cartridges