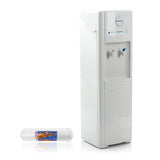 Product Description

The Pure Water Systems Automatic Water Cooler unit is conveniently installed with the 1 Micron Carbon Block Inline Cartridge (K5520) inline to provide an unlimited supply of refreshing cool and cold, or hot and cold filtered water for the office or your home. Our series of automatic coolers are mains water-fed to accommodate a variety of situations, making them a convenient and cost-effective alternative to buying bottled water for your home or business.


The Carbon Block Inline Cartridge (K5520) is ideal for use inline to fridges and coolers. It is great for reducing dirt, rust, sediment, disinfection products (such as chlorine) and unpleasant tastes and odours from your water.


Combining stylish design and durability, the 'cloud white' cabinets are a combination of high impact ABS plastics and powder-coated steel. All surfaces are easy to clean and provide superior resistance to UV light. Our cooler range also come with a removable drip tray for easy cleaning and maintenance.

Specifications
PRODUCT SPECIFICATIONS
| | |
| --- | --- |
| Cooler Dimensions (H x L x W) | 1040mm x 310mm x 310mm |
| Half Size Cooler | 630mm x 310mm x 310mm |
| Cold Tank Capacity | 14.3L |
| Hot Tank Capacity | 1.8L |
| Max Pressure | 350 kPa |
APPROXIMATE WATER TEMPERATURE OUTPUT
| Tap | Approx. Temp. |
| --- | --- |
| Cold | Approx. 4 - 10°C |
| Cool | Room Temperature |
| Hot Tap | Approx. 84-89°C |
* Output temperature may vary depending on room temperature where the Cooler is installed and thermostat temperature set.
CAPACITY
Room Temp °C
21
27
32
150ml Cups / Hour 10°C
44
32
18
Litres / Hour 10°C
6.6
4.8
2.7
Hot Water Delivery
45 x 170ml Cups / Hour
*Intermittent use only, continuous use will result in reduced performance.
MATERIAL
| | |
| --- | --- |
| Cold Water Tank | Polypropylene |
| Hot Water Tank | Stainless steel |
| Cabinet | UV treated ABS plastic |
| Side Panels | Zinc-coated steel, high polymer polyester |
| Taps | NSF approved polypropylene |
Carbon Block Inline Cartridge (K5520)
| | |
| --- | --- |
| Flow Rate | 1.9L / Minute |
| Min/Max Pressure | 860kPa (125psi) |
| Min / Max Temperature | 2 - 38°C |
| Certification | NSF42 & 53 |
| Micron Rating | 1 Micron |