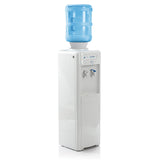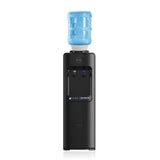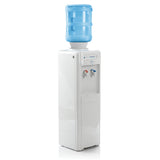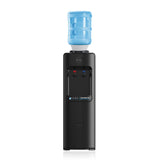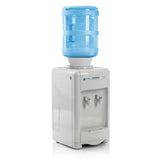 Product Description

The Bottle Water Cooler provides refreshing cool and cold, or hot and cold filterred water on demand. Our range of portable coolers are bottle-fed to accommodate a variety of situations and include a 15L cooler bottle for water storage, providing a convenient and cost-effective alternative to buying bottled water for your home or business.

The water from the bottle passes through a 4-stage filter media to reduce chlorine, heavy metals and other potentially harmful contaminants, ensuring fresh and healthy filtered water in your home or office.


Combining a stylish design with durability, the 'cloud white' cabinets are a combination of high impact ABS plastics and powder-coated steel. Also available in 'gloss black', all surfaces are easy to clean and provide superior resistance to UV light. Our cooler range also come with a removable drip tray for easy cleaning and maintenance.

Specifications
PRODUCT SPECIFICATIONS
| | |
| --- | --- |
| Cooler Dimensions (H x L x W) | 950mm x 310mm x 310mm |
| Half Size Cooler | 310mm x 310mm x 534mm |
| 15L Bottle Dimensions (H x Dia.) | 455mm x 260mm |
| Cold Tank Capacity | 4L |
| Hot Tank Capacity | 1.8L |
APPROXIMATE WATER TEMPERATURE OUTPUT
| Tap | Approx. Temp. |
| --- | --- |
| Cold | Approx. 4 - 8°C |
| Cool | Room Temperature |
| Hot Tap | Approx. 84-87°C |
* Output temperature may vary depending on room temperature where the Cooler is installed and thermostat temperature set.
CAPACITY
Room Temp °C
21
27
32
150ml Cups / Hour 10°C
44
32
18
Litres / Hour 10°C
6.6
4.8
2.7
Hot Water Delivery
45 x 170ml Cups / Hour
*Intermittent use only, continuous use will result in reduced performance.
MATERIAL
| | |
| --- | --- |
| Cold Water Reservoir | Stainless steel |
| Cabinet | UV treated ABS plastic |
| Side Panels | Zinc-coated steel, high polymer polyester |
| 15L Bottle | Polycarbonate |
| Taps | NSF approved polypropylene |
Cooler Filter Cartridge (CC4)

Cooler Filter Cartridge Dimensions

Top: 170mm x 175mm
Bottom: 107mm
Collar: 175mm

Micron Rating
5 Micron
Capacity
6 Months or 4000L
CC4 FILTRATION PROCESS
Stage 1
5 Micron needle felt membrane pre-filter
Stage 2*
5 Micron weak acid cation resin for reducing hardness, heavy metal and chlorine
Stage 3**
High grade activated carbon for reducing chlorine, compounds, taste, rust and odour
Stage 4
5 Micron needle felt membrane final filter