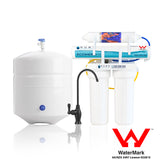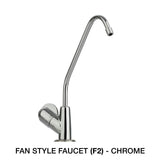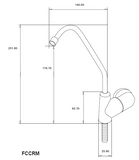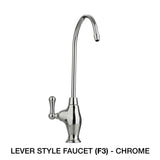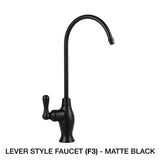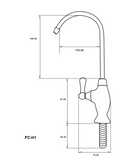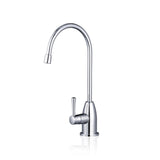 Product Description

The Eco Hero 4 Stage Reverse Osmosis with Remineraliser – Under Sink system is perfect for those who want to enjoy purified drinking water of the highest quality, conveniently at the turn of a tap. This system is neatly plumbed under your sink and includes a Premium Stand Alone Faucet to suit your kitchen's style.

The system is paired with a range of stylish mixer tap or faucets for an aesthetic and quality addition to your kitchen.

Of all methods to purify water, the process of reverse osmosis is one of the most advanced and effective. More than standard water filtration, the intense water purification process of reverse osmosis removes almost all contaminants found in drinking water, including total dissolved solids (TDS).


Better for the environment (and your home's water usage), this system is fitted with the Pure Water Systems Eco-Hero-50 membrane. The Eco-Hero-50 is the latest in membrane technology, providing up to 300% improved wastewater efficiency when compared to rival membranes.


Unlike standard carbon water filtration, the ultra-fine 0.0001-micron Eco-Hero-50 membrane removes a minimum of 90.8% of total dissolved solids (TDS) from water. This reverse osmosis system significantly reduces organic and inorganic compounds such as fluoride, viruses, bacteria, herbicides, pesticides, nitrates, algae, phosphates and more. The end result is great tasting, healthier and purified drinking water, conveniently at the turn of a tap.


Optional final stage:
The Pure Water Systems pH Neutraliser Cartridge is an optional final stage of filtration; it refreshes the water in the holding tank, raising the water to a consistent pH level of approximately 7.5. Whilst reverse osmosis systems offer the highest level of water purification, many minerals can be removed in the process, which can leave the water mildly acidic. The calcite in this cartridge raises the pH to a level considered neutral, whilst the granular activated carbon effectively removes any remaining unpleasant taste and odour.

While reverse osmosis is excellent for removing contaminants (such as heavy metals like cadmium, arsenic and chromium), healthy minerals and salts can also be removed leaving your water acidic. 


Adding minerals back into your purified water via the Remineraliser Cartridge raises your water's pH balance to a level considered alkaline. Minerals like calcium, magnesium, potassium and sodium are added for great potential health benefits such as improved gut and kidney health. Calcium, magnesium, potassium and sodium are all minerals that humans need for healthy teeth, bones and overall wellbeing.


More than just great tasting and healthier for you, water produced from this system is great for washing fruit and vegetables, cooking with, tea and coffee, pets' water dishes, watering plants and more!


The under sink Eco Hero 4 Stage Reverse Osmosis system is WaterMark certified and has NSF 42 certified components. This system comes ready to install, complete with cartridges and high-quality housing parts and fittings.


The Pure Water Systems purification system incorporates a precision machined, full metal construction pressure limiting valve and dual check valve, providing protection from pressure spikes, preventing backflow, and resisting water hammer. Whilst this is a requirement under Australian Standards, we have chosen this valve as it is ultra-reliable and performs to the highest standard, giving you peace of mind that your system is protected. 
Specifications
EcoHero 4 Stage Reverse Osmosis
| | |
| --- | --- |
| System Dimensions (H x L x D) | 450mm x 385mm x 130mm |
| Tank Dimensions (H x D) | 360mm x 280mm |
| Micron Rating | 0.0001 |
| Flow Rate | 190 Litres / Day (50 GPD) |
| Min / Max Pressure | 415 - 700 KPa (60 - 100 psi) |
| Min / Max Temperature | 5 - 49°C |
| Waste Water Summary (Max Efficiency) | 1 Part Purified : 1 Part Waste* |
| Watermark Certification | AS/NZS 3497 Licence 022815 |
* EcoHero membrane test results provide a 50% recovery rate. Recovery rates will vary depending on inlet / holding tank pressure, water quality and the condition of the filters.
Watermark Official NSF Certified Contaminants Reductions
| | |
| --- | --- |
| Arsenic | 88% |
| Hexavalent Chromium | 96.4% |
| Trivalent Chromium | 98.2% |
| Barium | 96.3% |
| Selenium | 97.9% |
| Copper | 98.5% |
| Fluoride | 93.6% |
| Turbidity | 99.1% |
| Cadmium | 99.1% |
| Lead | 98.6% |
| TDS | 90.8% |
Total TDS Reductions PPM*
| | |
| --- | --- |
| Inlet TDS Reading | Post RO Membrane Reading |
| 96 PPM | 3 PPM |
* Based on In house testing conducted 29/10/2018, results may vary dependant on water quality.
FILTER CARTRIDGES
| Position | Cartridge |
| --- | --- |
| Sediment Pre Filter | 1 Micron Polypropylene Spun Pre Filter (PWS-P1) |
| Carbon Pre Filter | 10 Micron Carbon Block (PWS-5+) |
| Carbon Post Filter | 5 Micron Encapsulated Granular Carbon Filter (GS10JJ) |
| Membrane Filter | EcoHero 50 Membrane (PWS-MEM-50) |
| | |
| --- | --- |
| EcoHero 4 Stage Reverse Osmosis System | AS/NZS 3497 |
| Filter Housing | NSF Standard 42 |
| EcoHero 50 Membrane | NSF/ANSI Standard 58 |
| Tube | NSF Standard 51, NSF Standard 61 |
| John Guest Fittings | NSF Standard 51, NSF Standard 61 |
| Tank | NSF Standard 58 |
Materials
| | |
| --- | --- |
| Housing | Food Grade Polypropylene |
| EcoHero 50 Membrane | Aromatic Polyamide, Thin layer Composite Membrane |
| Holding Tank | Stainless Steel, High-grade Chlorobutyl Diaphragm, Virgin Polypropylene Liner |
FAUCET SPECIFICATIONS
| | |
| --- | --- |
| Fan Style Faucet - Chrome | Click here |
| Lever Style Faucet - Chrome | Click here |
| Lever Style Faucet - Matte Black | Click here |
SUPPLIED WITH
EcoHero 4 Stage Water Filter System with mounting bracket
Filter Cartridges
Premium Stand Alone Faucet
Australian approved standard cold water connection kit including:

Isolation Tap
Pressure Limiting / Dual Check Valve
High pressure tube
Drain Clamp
Installation Instructions