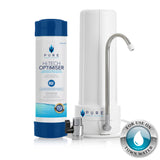 Product Description

Immediately improve the taste of your tap water with this Bench Top Water Filter and included submicron cartridge. This filter is supplied with your first cartridge, the powerful Hi-Tech Optimiser Cartridge (exclusive to Pure Water Systems).

The Bench Top Water Filter is excellent for removing unpleasant water tastes and odours, making staying healthy and hydrated simple. Enjoy more than just great tasting drinking water, as the Bench Top Water Filter is perfect for washing fresh produce, water for cooking, drinks like tea and coffee, pets' water dishes, watering plants and more!

Disinfectants (like chlorine) can be added to Australian town water supplies to reduce bacteria*, parasites and other natural and synthetic contaminants. Some harmful parasites like giardia and cryptosporidium cysts can survive the disinfection process, potentially causing severe illness. Many people avoid drinking regular tap water due to disinfection chemicals' unpleasant tastes, odours and uncertainty of their long-term side effects.

A great value water filter that doesn't compromise on quality, the Bench Top Water Filter is also easy to DIY install, connecting directly to most taps in 3 easy steps. 

The Bench Top Water Filters are completely portable, making it ideal for people who are renting or on the move.

Bench Top Water Filter Tap Adaptors

Our Bench Top Systems come standard with four tap adaptors, so you can choose one that fits your tap and quickly DIY install your water filter system. View our tap adaptor information here or phone our Friendly Product Solutions Team on 1300 808 966 for information and support on which tap adaptor you will require for your tap.
Specifications
Bench Top Water Filter
The Pure Water Systems Bench Top Water Filter is a totally portable system that can be installed directly onto your existing tap in just few easy steps. Constructed using only the highest quality parts and fittings, sourced from the worlds most reputable manufacturers, the Bench Top is an economical and practical water filtration solution. The Bench Top Water Filter can be used for both town and tank water supplies and is ideal for use in the home, office or even whilst traveling, which means that you're never without a healthy source of fresh, filtered water.
The Heart Of The Filter
Our Bench Top Water Filter utilises carbon block filtration matched to your needs offering the superior reduction of tastes, odours, chemicals, metals and bacteria*, leaving you with water that not only tastes great, but is good for you.
*Bacteria reduction only available for tank water (the Doulton Ultracarb cartridge).
Bench Top Specifications
| | |
| --- | --- |
| Dimensions (L x H x Dia) | 147mm x 290mm x 110mm |
| Spout Height | 240mm |
| Tube Colour | White |
| Tube Length | 1 Metre |
Housing Specifications
| | |
| --- | --- |
| Material | Food Grade Polypropylene |
| Pressure Rating | 125 PSI |
| Temperature Rating | < 51.7°C |
| | |
| --- | --- |
| Flow Rate | 3 Litres / Minute |
| Min/Max Pressure | 30 - 100 PSI (210 - 700 KPa) |
| Min/Max Temperature | 4.4 - 38°C |
| Product Dimensions | 250mm x 73mm |
| Micron Rating | Submicron |
| Material | Electrostatic outer wrap, Pharmaceutical grade membrane, Blend of activated carbons |
Supplied With
Housing & Base
Spout
Filter Cartridge
Low Pressure Tubing
Diverter Valve
Tap Adaptor
Installation Instructions
How To Install Your Bench Top Water Filter
Reviews
100%
would recommend these products
Lynette M.

Verified Buyer

Reviewing

Bench Top Water Filter (Town Water)

Healthy , good tasting water! Happy Customers.

We love having our bench top water filter, Such a great solution for us in our apartment. It doesn't take up much room and delivers lovely water - better taste and healthier. We drink more water now!

PW

Pure Water Systems

3 months ago

Thank you for your brilliant review, Lynette! We are happy to hear that you are enjoying your new Bench Top Water Filter!

Reviewing

Bench Top Water Filter (Town Water)

Love this system

I have had 3 pure systems over the houses that I rent this time I bought a portable one the best thing ever I would not hesitate to recommend one of these systems for renters or even house and shed they are great and look good to

PW

Pure Water Systems

5 months ago

Hi Tanya, we are very pleased to hear that you have had a great experience with Pure water Systems and are enjoying your new Bench Top Water Filter! 😊

Catherine S.

Verified Buyer

Reviewing

Bench Top Water Filter (Town Water)

Fantastic product!

Easy to install; easy to use; unobtrusive on the bench top; but most of all the water is the best I've tasted.

PW

Pure Water Systems

6 months ago

Hi Catherine, thank you so much for your wonderful review! Your new Bench Top Filter looks great in your kitchen, we are glad that you are enjoying great tasting water. 😊

Reviewing

Bench Top Water Filter (Town Water)

Great Product

Love that this product is portable and we can take it with us when we move as currently in a rental property. It also means we can stop buying bottled water now with having the filter. Easy to setup and install.

Bought 2 in the Black Friday Sale and gave one as a Xmas gift for a family member who absolutely loves it too!

Reviewing

Bench Top Water Filter (Town Water)

Fantastic

We have been in this house a year and the water i think is ok but the pipes are yuk, as we rent the best option without construction is the counter top filter, should have purchased your product months ago, it's fantastic.

PW

Pure Water Systems

3 years ago

Thank you, Kai, we appreciate your feedback! One of the best features of our Bench Top Water Filter is that it is completely portable and really easy to install. Happy to hear your water tastes so much better!

Thanks again – the Pure Water Systems Team
Reviews Loaded
Reviews Added