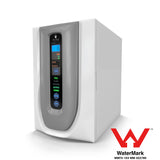 Product Description

The RO-5U Reverse Osmosis Water Purifier is the latest in health innovation and reverse osmosis water purification technology.


Exclusive to Pure Water Systems, the system combines technology and stylish design to deliver purified, alkaline water for a vitalised body and peace of mind.

Pure, chemical free water means no unpleasant taste and odour, just great tasting water for you and your family – simply at the turn of a tap.

Perfect for drinking and food preparation, purified alkaline water ultimately protects your body from absorbing contaminants found in both tank and chemically treated town water.

Filtering down to submicron (0.0001) level, the RO-5U effectively removes up to 96% of total dissolved solids (TDS) and volatile organic compounds (VOCs).

The stylish RO-5U has been designed to complement any home and lifestyle and sits neatly concealed under the bench leaving your kitchen free from clutter. 

The Pure Water Systems purification system incorporates a precision machined, full metal construction pressure limiting valve and dual check valve, providing protection from pressure spikes, preventing backflow, and resisting water hammer. Whilst this is a requirement under Australian Standards, we have chosen this valve as it is ultra-reliable and performs to the highest standard, giving you peace of mind that your system is protected. 

Electronic monitoring with digital touch panel

The RO-5U's built-in electronic monitoring systems ensure the systems produces the highest quality water around the clock, with a 24-hour water quality monitor measuring TDS levels.

The system is protected by auto leak detection and performance alerts, conveniently displayed on the easy to use digital touch panel, giving you peace of mind at the press of a button. 

Easy maintenance

Maintaining the RO-5U couldn't be easier. The automatic back-flush function runs periodically to protect and prolong the life of the reverse osmosis membrane.

The system will alert you when TDS levels are too high or when it is time to change the filter cartridges (every 2 years for the membrane and every 12 months for standard cartridges). Thanks to a patented design, cartridges can be replaced with a simple 'twist and click'… no tools required!

Faucet and 3 Way Mixer Tap Upgrade Options

Designed to complement any kitchen style, the RO-5U Reverse Osmosis Water Purifier is available with faucet and premium 3 way mixer tap upgrade options. 

Upgrade to:

 
Specifications
5 STAGE PURIFICATION
The RO-5U uses a 5 stage reverse osmosis (RO) process to produce purified, alkaline water with a consistent level of pH 8+.
The purified water is held in a 8 litre, pressurised holding tank until it is needed. It then passes through the final stage of filtration, transforming into alkaline water, fresh and ready for drinking.
Filtering down to submicron (0.0001) level, the RO-5U effectively removes up to 96% of total dissolved solids (TDS) and volatile organic compounds (VOCs).
FILTER CARTRIDGES
Sediment Cartridge – The Sediment Cartridge effectively removes sediment particles such as sand, silt, dirt, rust and other impurities.
GAC Cartridge – The Granular Activated Carbon Cartridge (GAC) effectively removes volatile organic compounds (VOCs) and many other potentially harmful chemicals.
Carbon Block Cartridge – The Carbon Block Cartridge effectively removes chlorine to protect the RO membrane. It absorbs harmful organic compounds, removing bad taste from drinking water.
RO Membrane Cartridge – The RO (Reverse Osmosis) membrane effectively removes chemicals, total dissolved solids (TDS), metals, bacteria and viruses.
GAC + Alkaline Cartridge (50) – The GAC and Alkaline Cartridge is the final stage of filtration; it refreshes the water in the holding tank, raising the water to a consistent alkaline level
(pH 8+). This stage of filtration can be customised to suit varying water quality.
DIMENSIONS
Height = 390mm
Width = 245mm
Depth = 390mm
INSTALLATION REQUIREMENTS
Installation is required by a licensed plumber and requires access to a 240V electrical outlet. Supplied with Power Lead (2.5m).
Reviews
100%
would recommend these products
Reviewing

RO-5U Reverse Osmosis Water Purifier with Premium Mixer Tap Bundle

RO-5UReverse Osmosis Water Purifier

I can't express how pleased I am with this water filter system. It has truly transformed the way my family and I consume water. Installation was a breeze, and the quality of water it produces is exceptional. Not only does it remove impurities and contaminants, but the taste is noticeably purer and crisper. It's like having bottled water quality straight from the tap! Plus, the filter replacement process is straightforward, and the filters themselves last a reasonable amount of time.

This water filter system has exceeded my expectations in terms of performance, convenience, and customer service. The premium mix tap bundle is a great idea to keep it all in one. It's a worthwhile investment for anyone looking to improve the quality of their drinking water.

PW

Pure Water Systems

1 month ago

Hi Marko, WOW it is fantastic to hear that you and your family are enjoying your new RO-5U System and have purified water on demand! Thank you for your great review. 😊

Reviewing

RO-5U Reverse Osmosis Water Purifier with Premium Mixer Tap Bundle

Best Money ever spent

I chose this bundle to save room and not have 2 taps on my sink. The tap looks amazing. The water tastes great and I find it hard to drink any other water now.

PW

Pure Water Systems

5 months ago

Hi Brian, Thank you for your wonderful review. We are pleased to hear that you are enjoying your new RO-5U Water Purifier and Goose Neck Faucet!

Reviewing

RO-5U Reverse Osmosis Water Purifier with Premium Mixer Tap Bundle

Awesome

Water tastes absolutely amazing, taste so pure and clean chemical free how water should be. Love it and well worth every cent.

PW

Pure Water Systems

1 year ago

Hi Wayne, we are pleased to hear that you are enjoying the great taste of reverse osmosis water and loving your new RO-5U. Thank you for sending in your review. 😀

Reviewing

RO-5U Reverse Osmosis Water Purifier - With Premium Stand Alone Faucet Bundle

Pure drinking water

The taste of Osmosis filter is very good, I can recommend

PW

Pure Water Systems

1 year ago

Hi Eva, thank you for the lovely review and recommendation!

Craig S.

Verified Reviewer

Reviewing

RO-5U Reverse Osmosis Water Purifier - System Only

Amazing system works great with Tank water pump

This system is amazing! For years at our holiday house where we have tank water and with a standard house pump it struggled with sub micron standard filtration systems.

I purchased the unit with an extra booster pump thinking it would also struggle, yet the internal pump of the RO5U worked perfectly with our standard Davey house pump (36psi) and returning the extra pump for a refund was no issue at all. Sandra and pure water have fantastic customer support. I wouldn't look anywhere else just buy this unit from them and you will be happy!

Rain water is also quite acidic (ours was pH5.5) as there are no minerals/buffers and the pure alkaline water the RO5U produces is amazing and so lovely to drink!!!! To be honest I was an alkaline water sceptic and just wanted the unit for clean tank water but i am now converted!

100% recommend this product

PW

Pure Water Systems

2 years ago

Thank you, Craig, we really appreciate your feedback. We are happy to hear that you did not need an extra pump. Sandra and our entire Customer Service team pride themselves the satisfaction of all of our customers, and it is great to hear you were able to return the extra pump without an issue. Enjoy the Ro-5U! The Pure Water Systems Team
Reviews Loaded
Reviews Added